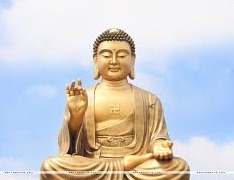 The Buddha, symbol of wisdom, compassion, courage and trustworthiness
---
---
After leaving Chan Chun Fook and Cheah Pak, Luk Ah Choy was thinking of his sifu, the Venerable Chee Seen. He sifu had been like a stern father and a kind mother to him. He was sent by his sifu to catch Lai Fu, who secretly crawled through a drainage hole of the Shaolin Monastery instead of graduating through the Lane of Wooden Men. Now he let Lai Fu go. Didn't he forget his sifu's grace and forsake his sifu's righteousness? Didn't he betray his sifu? He became very miserable, and decided to return to the Shaolin Monastery at once to see his sifu.
As soon as he arrived at the Shaolin Monastery, he went straight to a meditation room to see his sifu, the Venerable Chee Seen. He knelt down and said nothing.
Seeing Luk Ah Choy's return, Chee Seen was very happy. But Chee Seen did not see Lai Fu captured. So he asked, "Ah Choy, you have been away for a long time. Stand up, have a seat and tell me what you have been doing all these days."
Luk Ah Choy continued to kneel before his teacher and knocked his head three times on the ground. His tears rolled down unceasingly. "Sifu," he said, "this time my return is to take punishment. I have broken monastery rules, and am willing to accept any punishment and advice sifu will give."
"Ah Choy, what is this? What punishment?"
Luk Ah Choy felt ashamed. He told his sifu that he did not want brothers in the same kungfu lineage to fight with each other, that he let Lai Fu go, and that he lingered around outside the monastery to deceive his sifu."
Hearing this, Chee Seen was furious.
"Bring my Zen maze!" he ordered.
The monks nearby were terrified. Those sympathetic to Luk Ah Choy were perturbed, thinking in their heart that Luk Ah Choy would surely be seriously punished. Some eyed Luk Ah Choy and were worried for him, but Luk Ah Choy was unmoved. He continued kneeling without saying anything.
Two monks brought his Zen mace for Chee Seen. He took the mace and walked out of the room. After a few steps, he turned round and asked Luk Ah Choy to follow him. He also asked the monks standing on both sides to sound the monastery bell.
When the monastery bell was sounded, everyone assembled in the main hall. The atmosphere was very tensed. Everyone was aghast to the extreme.
Chee Seen, with the Zen mace in his hand, stepped forward. He asked Luk Ah Choy to stand in front of the gathering.
"Ah Choy," Chee Seen said loudly, "you have never beguiled the blood in my heart (i.e. my earnest dedication and expectation).
Luk Ah Choy could stand no longer. He cried loudly, "Sifu!"
The Venerable Chee Seen continued, "The principles of our monastery are to be wise, compassionate, courageous and trustworthy. You have achieved all these principles. Today, I have gathered everybody to show you as a model, so that all who come after can be like you.
"Let us just discuss what you have done this time. You received order to bring Lai Fu back to the monastery. Other people will do just that, so as to please me. But you are different, you let him go. You let him go because you do not want to see someone whom you have met for years to fight amongst themselves. Anyone who lacks feelings and righteousness cannot do that.
"Anyone knows that disobeying sifu's order would be severely punished. But you are willing to take the punishment on his behalf, showing the great compassion of your heart. To be able to do this requires wisdom and thoughtfulness. It is not attainable by ordinary people.
"You have waited till today to return to the monastery to report. You have spoken straight (i.e. honestly) without any lies. This is trustworthiness.
"Just now I shouted for my Zen mace. For other people, whose face will not change color, whose legs will not shake? But you have remained complacent, and your spirit was calm. Without courage, who can do this?
"All said, all these are virtues. Virtues should be spread. I hope all present will emulate."
After he had completed his speech, the Venerable Chee Seen held a cup of tea and passed it to Luk Ah Choy.
"Ah Choy, drink it."
Luk Ah Choy again prostrated, then drank the tea in one gulp.
After Luk Ah Choy had finished drinking the tea, the Venerable Chee Seen said.
"Ah Choy, although your kungfu is still far from the stage of ascending the summit and creating afresh (i.e. have reached the height of the state of art, and is ready to create new developments), you have realized the principles we cherish. Tomorrow you can descend the mountain (i.e. leave the monastery)."
Luk Ah Choy was one of the Shaolin masters who spread Southern Shaolin Kungfu to the world. His disciple, Wong Kai Ying, taught his son, Wong Fei Hoong, whose lineage spread to Europe and North America.
Wong Kiew Kit
15th January 2018, Sungai Petani
LINKS