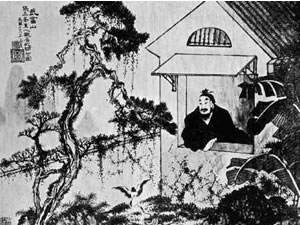 ---
---
Hoong Hei Khoon, one of the best disciples of the Venerable Chee Seen, was from Fa Yun, or the Flower District, of Guangdong Province. When he was small, he lost his parents. The Venerable Chee Seen found him on the street, and took him back to the Shaolin Monastery.
One day he returned to the Flower District. After many years at the Shaolin Monastery, he found that the Flower District had become prosperous. But when he realized that he had no relations in the district, and not even a place to rest his feet, sadness rose to his heart.
He entered a restaurant to quench his sadness with wine. But there was a saying that:
Lifting a blade to cut water, water continues to flow.
Lifting a glass to drink wine, sadness grows.
He checked his money, and found that it was not much left. So he had a plan to sell medicated pills to overcome injuries due to falling and being hit.
There were a lot of people seeing him perform kungfu as a prelude to selling medicated pills, but when he started to sell, not a single customer bought his pills. Disappointed he was about to pack up to leave, when a woman came forward.
"Sifu," the woman asked, "can the medicated pills overcome any injury?"
"No," Hoong Hei Khoon replied honestly, "if the injury is severe, the injured person must consult a master for personal medication."
"Are you an expert in this kind of medication?"
"I don't dare to call myself an expert, but I know a thing or two."
"My son is injured, and his pain is terrible. I wonder whether sifu can have a look at him?"
This woman. Madame Li, was the mother of Black Bone Cheong. Hoong Hei Khoon followed the woman to her house, and she led him straight to her son. Hoong Hei Khoon found Black Bone Cheong was seriously injured and was semi-unconscious, his face pale like death, and he could not even speak. Hoong Hei Khoon gently slapped on an energy point to open it, and clear the energy blockage. Then he prescribed some medicine for Black Bone Cheong to take.
After half a unit of Chinese time (which was an hour), Black Bone Cheong slowly opened his eyes and began to speak softly. He complained of pain.
Madame Li was very happy. She told Hoong Hei Khoon, "Sifu's hand is marvelous like the return of spring (i.e. very good in medicine). My son was semi-unconscious for two days. Now he can cry pain. I think his injury is reduced. I beseech sifu to stay in my humble house for a few days until my son recovers. I wonder if sifu can agree."
Hoong Hei Khoon found that the patient was seriously injured. He also wanted to know the cause of his injury. So he agreed.
After taking some medication, Black Bone Cheong slept until evening. When he awoke, he said he was very hungry. Madame Li fed him some broth.
Hoong Hei Khoon asked, "Elder Brother Sung, how were you injured?"
Black Bone Cheong did not want to tell the truth, as it might damage his father's reputation. So he said, "I was careless. I was accidentally hit by a pole."
Hoong Hei Khoon said, "At one look I knew that your injury was due to dim-mark (i.e. dotting energy points) in combat. Now the pain is under control, but dead blood is still clogged in the injury. If the injury worsens, it may affect your heart. You haven't overcome your danger-point yet. If you say that you were hit by a pole, I would treat your injury according to being hit by a pole. You have to think carefully."
Black Bone Cheong replied, "I have no choice, I have to tell the truth. But sifu promise not to say it out, or else my father's reputation will be damaged."
"Right. I promise not to say it out. Quickly tell me the truth."
Black Bone Cheong told Hoong Hei Khoon everything about his combat in kicking the foundation (i.e. challenging the kungfu master to beat him so that his kungfu school would be close).
Hoong Hei Khoon shook his head and said, "You haven't entered the world deeply (i.e. you are still inexperienced), how can you imagine yourself to be grandiose? Your injury is due to your pompous behavior.
"Those who have marvelous arts do not want to fight. You just entered the martial forests (i.e. martial circles), and you have become vain. Old Mok Six is compassionate, and lets mercy flows from his hands. Otherwise, even with the art of returning to heaven (i.e. super medical practice), it is insufficient to save you!"
Black Bone Cheong was frightened to the core. He asked, "What techniques does he use. These techniques are so terrible."
"He used the techniques of dotting energy points."
"What is this type of kungfu? I haven't heard of it before."
Hoong Hei Khoon explained patiently, "This art of dotting energy points (called dim-mark in kungfu terminology) is said to be invented in the Ming Dynasty by Zhang San Feng."
(Zhang San Feng was reputed to live for over 200 years. He was born in the late Song Dynasty, and extended to the subsequence Ming Dynasty. In Cantonese pronunciation, "Zhang San Feng" was "Cheong Sam Foong".)
"Later the Taoist priest, Foong Yit Yun, succeeded him, and transmitted the art to the great kungfu knight, Cheong Chun Yit. In the hands of Cheong Chun Yit, the art spread gloriously. From 36 techniques it became 72 techniques. Among the energy points, there were numb points, dumb points, faint points, death points, light points and heavy points.
"Concerning techniques, there were dotting with fingers, slapping with palms, striking with knees, hitting with elbows, using staffs and maces, and secret weapons, without any limitation. Later, Cheong Chun Yit transmitted the art to his special disciple, Wang Feng. Wang Feng further developed the techniques, making a total of 108. Besides dotting, he invented the techniques of chin-na (i.e. holding and gripping). For a time, people in martial arts regarded it as a treasure.
"Those who knew the art, did not easily pass on the art to others, to prevent evil martial artists to use the art to harm others. Thus, until now only a few know the art."
Black Bone Cheong was touched.
Hoong Hei Khoon continued, "When you have recovered, you must never use your martial art to bully others."
Black Bone Cheong rose up, and prostrated before Hoong Hei Khoon on his bed. He vowed that he would remember the advice, and be honorable to other people.
Hoong Hei Khoon saw that Black Bone Cheong was brave enough to change, and was very happy. He dedicated himself to cure Black Bone Cheong. Within ten days, Black Bone Cheong did not have any more blockage and pain, and was back to normal.
That day, he celebrated with wine and good food for Hoong Hei Khoon. Grasping his hands in greeting, he said, "Sifu, for saving my life and your golden words and jade advice, even if I die a million times, I could not repay."
He took out some money, which was 100 taels of silver, and told Hoong Hei Khoon that he hoped Hoong Hei Khoon would accept it with laughter (i.e. accept the money but laugh at it as silly). After some initial refusal, Hoong Hei Khoon eventually accepted it.
Wong Kiew Kit
16th January 2018, Sungai Petani
LINKS