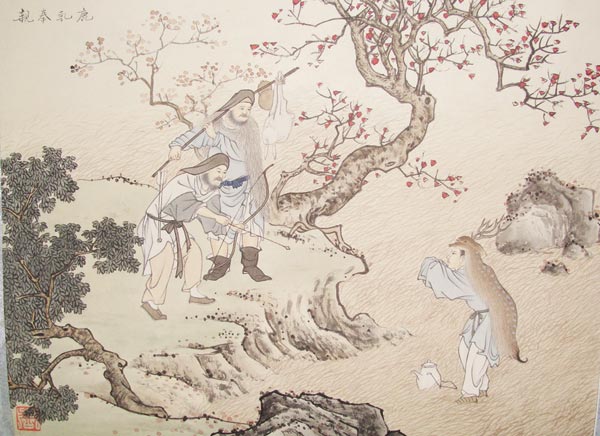 ---
---
One day a Shaolin student called Lai Fu wanted to fight his way through the Lane of Wooden Men. But after a short while, Lai Fu was screaming in the chamber. He was badly hurt by the Wooden Men.
The Venerable Chee Seen ordered the operation mechanism of the Wooden Men be turned off, and Lai Fu to be carried out. After applying medicine on him, and resting for a few days, Lai Fu felt better.
But he was depressed. He had been learning kungfu in the Shaolin Monastery for more than ten years, but now he could not pass through the Wooden Men. Anyone who could not graduate from the Lane of Wooden Men had to remain in the monastery, no matter for how long he had been there.
Lai Fu realized that earlier Wu Wei Thein was in the same situation. Wu Wei Thien could not fight his way through the Wooden Men, and had to crawl out of the monastery through a drainage hole.
But since that time, an iron grill was made to cover the hole. Water could flow through the grill, but it prevented any human from crawling through it. Lai Fu thought hard and found a solution. Every day, without other people knowing, he took some vinegar from the kitchen and pour the vinegar at the iron grill.
After repeating the action for a month, the vinegar ate into the iron making the iron grill fragile. One late, after he had made sure everyone else was sleeping soundly, he went quietly to the drainage hole. He bent down so that he would not be noticeable and used an iron staff to hit hard at the iron grill. After some hitting, the iron grill collapsed and he crawled through the drainage hole. Outside the monastery wall, he knelt down, knocked his head three times on the ground, and then hurried down the mountain.
Early next morning, some monks on duty discovered that the iron grill at the drainage hole was broken. They quickly sounded the monastery bell to alert all those in the monastery.
All the monks and students of the Shaolin Monastery gathered at the main hall. Chee Seen called the register and found that Lai Fu was missing.
Chee Seen was very angry. "Where is Luk Ah Choy?" he shouted.
Luk Ah Choy came forward and knelt down, "Here is disciple ready to take sifu's order."
"Descend the mountain immediately, and bring Lai Fu back."
Luk Ah Choy left the Shaolin Monastery, He searched in the day time and slept at night, ate when hungry and drank when thirsty. After a few days he came to a small town. He found an eating shop at a main street.
He could smell the aroma of rice, and felt he was hungry. So he entered the shop and looked around to find a table to have his meal.
To his utter surprise, he found a familiar face sitting at a corner. He was Lai Fu, the man he had been searching for many days.
Luk Ah Choy approached Lai Fu, and said, "I never expected to see you here."
Lai Fu was shocked. He asked his siheng (or elder kungfu brother) to sit down.
"I am under the order of our sifu to bring you back to the Shaolin Monastery," Luk Ah Choy went straight to his mission.
"Luk Siheng," Lai Fu pleaded, "Please don't come forward." He quickly grasped his iron staff which was leaning against a wall.
"What do you want to do? Just a few movements with your staff, you think you can stop me? Quickly put away your staff, and follow me back to the monastery. Otherwise don't blame me for not thinking of our joss sticks and candles relationship (i.e. we came from the same kungfu lineage, as joss sticks and candles were used to worship past masters)."
Lai Fu knew very well he would not be a match against Luk Ah Choy. He quickly put away his staff and cried, "Siheng, Lai Fu is here. You can hit or kill me if you want."
"I am here under sifu's order to bring you back to the monastery. When you left secretly, sifu was very angry. He ordered me to descend the mountain to search for you. No matter how long the time, I may wander over the edges of heaven and the corners of seas (i.e. everywhere), I must catch you. What has happened is due to your own making. Please don't blame me for not being your siheng."
Lai Fu dropped his head and said, "Siheng acts under order. How can little brother blame you? But you and I have been in the monastery for many years, and I don't think you will see me suffer without extending any help. If I follow you back to the monastery, what kind of punishment I shall receive, you already knew. If siheng can open a bit of the net (i.e. let me escape, like in fishing, open the net to let the fish escape), little brother will appreciate your blessings without end."
Luk Ah Choy shook his head and sighed. "It is easy to say. You must know my difficulty. If I let you go, how can I report to sifu?"
Lai Fu dropped his head and remained silent. Then suddenly he said, "Not wrong. I know siheng's difficulty. But secretly escaping from the monastery is not me alone. As far as I know, Wu Wei Thien was one who secretly escaped from the monastery. Why not punish him, and just punish me?"
Luk Ah Choy replied, "How can you compare yourself with Wu Wei Thien? Sifu can forgive him because he has good reasons."
"Wu Wei Thien and me secretly escaped from the monastery. Why can't I use it for comparison? What is there any difference between he and me?"
"Wu Wei Thien escaped because of his filial heart. So we all can understand him and admire him. Sifu can forgive him."
Lai Fu replied, "Siheng Wu's escape was due to his filial heart. Isn't my escape due to my filial heart too?" I also have a father and a mother. I have entered the Shaolin Monastery for ten years. Because I am stupid, my kungfu progress is not great, I cannot pass through the Lane of Wooden Men. As if I am stupid, I cannot see my father and mother?
"Siheng, you were also born from your father and your mother. Being a son or daughter, who does not think of his or her own father and mother? Moreover, I have been in the monastery for ten years. This time my escape was due to the binding of bitterness of thinking of my father and mother. Thus I used such a mean method. It was not because I purposely wanted to break monastery rules.
"But events have come to this rice field (i.e. come to this stage). I do not think of being lucky again. Today If I die here, I do not have any angry words. A few days ago I have returned home to meet my parents."
Saying this, his eyes were filled with tears, and he swallowed his voice.
Luk Ah Choy also dropped his head without his own knowing. He thought silently to himself, "His secret escape is also due to his feeling for his father and mother. This feeling was human in all heaven and earth. He himself did not have any trace of being tied or dependent on any support because he had lost his parents when small. Otherwise, he would not be able to release himself from such emotion. Moreover, this time descending the mountain to catch Lai Fu was he alone. If he let Lai Fu go, no one would know.
When his heart was moved, his hands became soft. He signed and said, "According to reasons, an order from sifu cannot be avoided. But thinking that your action came from your filial heart, I'll let you go to reverence your father and mother.
"But what happened today must never leak out. Otherwise it will not be good for you or me. I hope you can appreciate my bitter heart (i.e. my intention which is difficult to make). When you return, reverence your father and mother, that will do."
Lai Fu was touched until his tears and mucus flowed out profusely. Quickly he knelt down to thank Luk Ah Choy.
Luk Ah Choy said, "I can't accept such a big ceremony (i.e. kneeling down to thank him). You better hurry away,"
Lai Fu grasped his iron staff, ran out of the shop, and fled like a comet.
Wong Kiew Kit
14th January 2018, Sungai Petani
LINKS