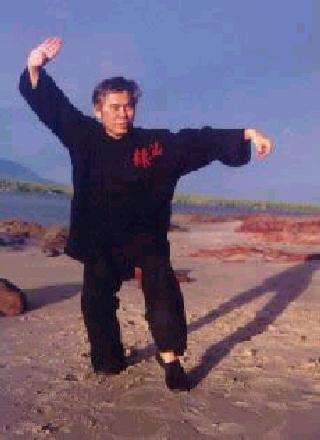 Chaquan, a northern kungfu style
---
---
Luk Ah Choy, the old man who was the owner of the shop, and Cheah Pak were drinking wine, enjoying delicious dishes and conversing like old friends. They talked about heaven and earth (i.e. talked about causal things) until late at night, until most of other people were asleep.
Luk Ah Choy learned that the old owner was called Chan Chun Fook.
"That's a lovely pipe, Uncle Fook" Luk Ah Choy commented, pointing to the pipe the old owner was smoking with.
"Every night after work, I would spend an hour or so smoking my pipe," Chan Chun Fook said. "Cheah Pak is different," the old owner referring to his cook. "He's young. Every night he practices his kungfu."
"I practice my kungfu diligently," Cheah Pak added, "but I am no where compared to our warrior here."
They were dining inside the shop, but suddenly a group of about ten persons in black dresses and all wearing masks appeared. They jumped in from open windows and were carrying weapons, like sabres and staffs.
"We're here to take your money," the leader who was holding a pair of sabres in his hands, said loudly to the dinners in the shop. "Quickly place on the table all you have, or else we shall chop you into pieces." His voice was like thunder. A few remaining customers who were still having their meals were terrified.
Luk Ah Choy reached for his iron drakes and ducks, secret weapons he carried in a small bag on his body. In an instant, he sent the flying iron pills at the robbers. He had learned the secret weapons from a master, so his aim was very accurate. He hit the hands of the robbers holding their weapons. Their weapons dropped on the floor, and they were holding their hands in pain. Some of them were groaning on the ground.
But the leader used his two sabres to deflect the flying iron pills. He was shocked to see all his remaining gang members wounded. For a few seconds he did not know what to say.
Cheah Pak stood up and addressed the leader. "Since you have come, you may not like to leave empty-handed. I'll give you a gift. I'll test your kungfu so that the next time you will know not just walk into a shop to rob. But I don't have any weapons with me, and you are holding double sabres."
The leader replied, "Who are you? What's your name?"
"I'm a cook here, and my name is Cheah Pak. What is yours?"
The gang leader took off his mask, and replied, "I do not change my name while sitting, or change my name while traveling. (This was a common saying in Chinese to emphasize that one never changed his name.) I am called Ma Hoi Sing."
Seeing that Cheah Pak did not have any weapon, Ma Hoi Sing placed his two sabres on a table, and said, "I can fight you unarmed."
Cheah Pak and Ma Hoi Sing chose a space near the door with no tables around. They each adopted a poise pattern. Cheah Pak stood at a lift-stance with his arms apart, in a pattern called "Beggar Asking for Food." It looked open and inviting, but a skillful martial artist could respond effectively when an opponent attacked.
Ma Hoi Sing stood in a left bow-arrow stance with his left hand in front of his right hand, guarding his body. This was a common pattern used by northern style martial artists. True enough as northern kungfu styles were known for their agility, Ma Hoi Sing moved in swiftly with a right punch in a right bow-arrow stance.
Cheah Pak retreated his front right leg, warded off the thrust punch with his left hand, moved his left leg forward in a bow-arrow stance and struck out his right fist, in a pattern known as "Black Tiger Steals Heart". His punch was full of power.
Ma Hoi Sing pulled back his right bow-arrow stance into a right lift-leg stance, still with his right leg in front but avoided the full force of Cheah Pak's punch. Simultaneously he changed his right punch into a hook-hand by holding his five fingers together like a crane-beak, and hooked away the punch. Immediately be moved forward his right leg into a bow-arrow stance, and struck the opponent's face with his left palm.
The two combatants exchanged many encounters. For a time it was uncertain who would be the winner.
From a side by observing Ma Hoi Sing's movements, Luk Ah Choy was quite certain that he was a northern kungfu exponent, especially when he used a pair of sabres. A southern kungfu exponent would only use one sabre.
(Kungfu was generally divided into northern styles and southern styles. Northern styles were centred around the Shaolin Monastery at Henan in the north, and included kungfu styles like Chaquan, Huaquan, Hongquan, Tantui, Eagle Claw, and Praying Mantis. Taijiquan, Xingyiquan and Baguazhang were also considered as northern styles. Southern styles were centred around the Shaolin Monastery in Fujian in the south, and included the five family styles of Hoong, Lau, Choy, Li and Mok, as well as Wing Choon and Choy-Li-Fatt.)
After many exchanges, Ma Hoi Sing used his left palm to strike at Cheah Pak's face. Cheah Pak warded off with his left hand. Immediately Ma Hoi Sing struck the opponent's face with his right palm. Cheah Pak warded off the attack with his right hand. But the two palm strikes were feign moves to distract the opponent. Instantly Ma Hoi Sing opened Cheah Pak's defending hands, and kicked up his right leg at Cheah Pak's chest, so fast that Cheah Pak could not avoid, and fell back a few feet. He hit an empty chair, then fell to the floor.
Ma Hoi Sing attained his intention that he forgot his appearance (i.e. he was glad he attained his intention of defeating Cheah Pak that his conduct and appearance became bizarre). He turned round to look at Luk Ah Choy.
"Just now your secret weapons disarmed by brothers, though I could deflect them. Using secret weapons is not honorable," he said.
"Coming in with masks and in black dresses to rob is also not honorable," Luk Ah Choy replied.
For a short while, words failed him. Then he asked, "Would you like to exchange a few moves with me?"
"As you have asked, I shall oblige," answered Luk Ah Choy.
Wong Kiew Kit
15th January 2018, Sungai Petani
LINKS