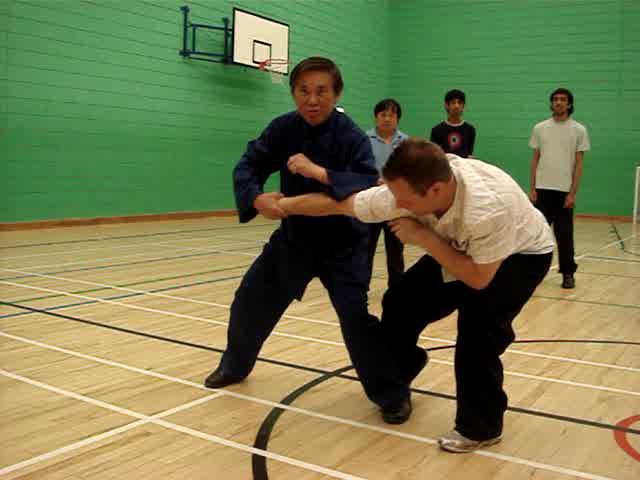 A combat application from the Triple Stretch kungfu set
---
---
With the help of Sam Tuck, Luk Ah Choy, Fong Sai Yuk and Wu Wei Thien from Guangzhou, Hoong Hei Khoon set up a kungfu school at Foshan, which was a big city some distance from the province capital at Guangzhou. Hoong Hei Khoon named his school "Siu Lam Hoong Koon" or "Shaolin Hoong Kungfu School".
Soon it was New Year day. Many kungfu schools celebrated the New Year festive session with lion dance. Amongst the famous lion dance teams were from Chan Kungfu School, Leong Kungfu School, Li Kungfu School and Lu Kungfu School.
A wealthy shop, called Toi Woh Hong, hung up a "green" (i.e. vegetable with a red packet containing money) tens of feet in the sky for the lions to gather. Attached to the "green" was a banner clearly stating that gathering the "green" depended on the personal kungfu skill of the head and the tail lion dancers, and other people were not permitted to help.
The first lion team that saw the "green" was from Lu Kungfu School. The master and students of the Lu Kungfu School found the "green" too high, so they just passed it. Then came the lion teams from Leong Kungfu School and Li Kungfu School. The kungfu masters and students had a look at the "green", and then walked away.
The lion team from Chan Kungfu School soon followed. The kungfu master and his students discussed how they could gather the "green". Some students suggested using human formation, called Lohan formation, which was forming different tiers of people one on top of the other. Their sifu mentioned that this was not permitted as stated in the banner. As they could not find a good solution, they also passed the "green" without gathering it.
The last to arrive was the lion team from Hoong Kungfu School. Some students reported to Hoong Hei Khoon that the "green" was very high, but human formation, which was a usual way to gather high "green", was not allowed. They also suggested that the lion would by pass the "green".
Hoong Hei Khoon exclaimed, "We should not by pass the 'green', which would show that we lack ability."
"But how would we gather the green if human formations are not allowed?" declared some students.
"I'll show you," Hoong Hei Khoon answered. He took over the lion head, and a senior student took the tail. The lion dance music, which comprised a gigantic drum, a massive gong and some pairs of copper cymbals, sounded majestically.
The lion danced magnificently beneath the "green", with the lion music creating a joyful din. After some time, Hoong Hei Khoon opened the mouth of the lion and sent out a flying dart, which neatly cut the thread tying the "green", causing it fall into the lion mouth. All those present applauded loudly and noisily.
The news soon reached lion dancers of the Chan Kungfu School. They became jealous, and came back to scold the lion dancers of the Hoong Kungfu School that they had no manners. This caused members of both lion dance teams shouted at each other and some of them exchanged blows.
Hoong Hei Khoon shouted at his students to stop, and then asked lion dancers of the Chan Kungfu School in a polite way, "In what ways we have no manners?"
The master of the Chan Kungfu School was called Chan Tiet Ngow. He was good at kungfu and had much strength, but was arrogant and irrational.
He pointed at Hoong Hei Khoon and shouted, "How dare you ask in what way you have no manners! In your eyes, do you see our Chan Kungfu School? There were reasons why we did not gather the 'green' from Toi Woh Hong. The owner thinks that because he is rich, he can buy us. It is not because we lack the skill to gather the 'green'. As you are also martial artists, you should know even though it is not explicitly explained."
Hoong Hei Khoon replied, "That's wrong. Gathering 'green' is a form of entertainment. Everyone can gather the 'green'. If you do not want to gather it, others may want. Without any purpose, you open your mouth and use angry words to hurt others. "
Chan Tiet Ngow did not answer. He went forward and thrust a punch at Hoong Hei Khoon.
Hoong Hei Khoon retreated a small step to avoid the punch. He did not counter. He did not want to change this small matter into a big matter.
But Chan Tiet Ngow did not appreciate it. He moved forward again and hung a buffalo-horn fist at Hoong Hei Khoon's temple. Hoong Hei Khoon gently brushed off this attack with a thread-hand, using a pattern called "Golden Dragon Plays with Water". The two masters then exchanged a number of movements.
Chan Tiet Ngow employed a sideway low horse-riding stance and executed a right thrust punch at Hoong Hei Khoon's abdomen. Hoong Hei Khoon withdrew his front leg into a left lift-leg stance and employed the pattern "Lohan Plays with Tiger", thrusting his left fist into Chan Tiet Ngow's ribs, while his left punching arm brushed away Chan Tiet Ngow's thrust punch. Chan Tiet Ngow could not avoid, and was hit on the ribs.
Instantly, Hoong Hei Khoon pushed away Chan Tiet Ngow's right hand, and simultaneously hung a left fist on the opponent's face, and kicked at the opponent's groin with his right foot, in a pattern called "Rising Dragon Galloping Tiger". But out of compassion, Hoong Hei Khoon kicked at the opponent's abdomen instead of the groin. This combat sequence was from the kungfu set called Triple Stretch, which was a specialty of Hoong Hei Khoon.
Hoong Hei Khoon could have broken Chan Tiet Ngow's bones, smashed his groin, and caused the opponent serious injury or even death. But he did not want to enlarge what to him was a small matter. He just wanted to put Chan Tiet Ngow out of action for some time. Chan Tiet Ngow's students ran forward and carried their sifu away.
After this incident Hoong Hei Khoon became famous in Foshan. He was also known to be kindhearted. Later he was regarded as the First Patriarch of Southern Shaolin Kungfu, often called Hoong Family Kungfu, in the world.
LINKS