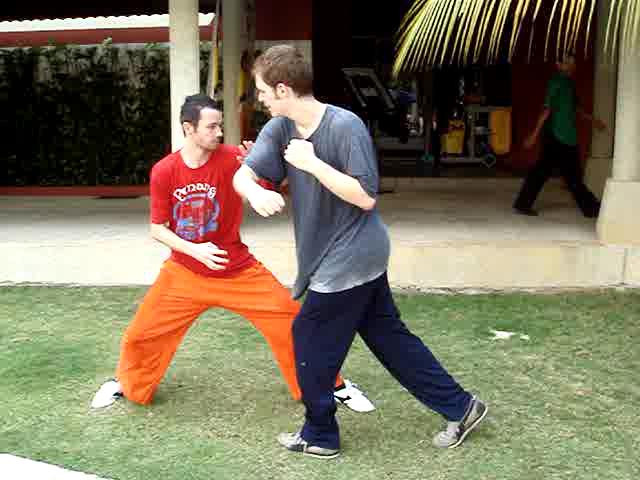 Tom applying what he has just learnt in the Intensive Shaolin Kungfu Course in June 2007 against a Boxer posed by Chris in free sparring
Question
Is it really possible to teach the combat applications of Shaolin and Taiji in an intensive course? I know many people have asked the same question on the Qigong (Chi Kung) course, and you have replied that "Its purpose is to equip you with fundamental skills and techniques so that you can competently practice on your own after the course. You need to practice for at least a few months before you can have lasting good results".
— Kaiwan, Singapore
Answer by Grandmaster Wong Kiew Kit
Yes, it is really possible, and it has been amply confirmed by practical experience of those who have attended my course. In the first place if I myself have doubt whether the course participants will get the benefits as promised in the course objectives, I would not offer the course.
For example, many people have requested me to offer an intensive course on the "Small Universe", but as I am still unsure whether I could help the course participants to acquire the benefits of the "Small Universe" — not just the techniques — within the time frame of an intensive course, I have refrained from offering it. I am making progress in the methodology of teaching the "Small Universe", and when I am sure of the result, I may offer the course in the future.
( Editorial Note: This was written in April 2004.)
What I have said about the Intensive Chi Kung Course concerning fundamental skills and practicing on their own, also applies to the Intensive Shaolin Kungfu Course and the Intensive Taijiquan Course. If course participants practice on their own for a few months what they have learnt in the Intensive Shaolin Kungfu Course and the Intensive Taijiquan Course, they can apply their techniques and skills effectively in combat. Even when they spar with their friends or students immediately after their return from the course, the latter will be amazed at their rapid improvement within such a short time. After a year, the latter would have no match at all.
There is nothing mysterious or mythical about it. It all boils down to vision, direction and systematic training . Both my Intensive Shaolin Kungfu Course and my Intensive Taijiquan Course focus on internal force training and combat application. A course participant has about 6 hours of systematic sparring a day, which means he has about 30 hours of systematic combat training from the course.
Most kungfu students do not have any systematic combat training at all. Many may have engaged in free sparring, but free sparring is not systematic combat training. In fact, the way they approach free sparring is counter-productive. Not only they sustain a lot of internal injuries, they condition themselves to fight in a way where they never apply their kungfu techniques and skills effectively. In principle, it is like training in football but playing hockey instead.
Let us take a scenario. Suppose you are trained in a way of a typical kungfu school today. To learn fighting, you and a partner practice free sparring. You stand in a typical kungfu stance using a typical kungfu pattern. Your partner charges at you and rains blows on you. You start to think to yourself: "Now what kungfu pattern should I use to defend against these blows?" Before you could even finish running your thought in your mind, a few blows have landed on your face and body.
After some time (which can be a few seconds, days or weeks later) you become smarter. As your sparring partner charges at you, you start to move back to avoid his blows. But because you stand at a deep kungfu stance, your retreat is slow, and your partner still rains blows on your face and body.
After some time, you discover that if you abandon your kungfu stances and bounce about, you can move faster, but your partner also charges in fast and rains blows on you. Soon you discover that you have no time to think of which kungfu techniques to use, so you just block his blows instinctively. You also discover that you can also rain blows on him.
Your sparring partner has become smarter too. He discovers that he can kick you or grab you or throw you onto the ground. He also learns that he may use some tricks. For example, he may pretend to strike you with a blow, but as you block or dodge the feign move, he kicks at you. Such free sparring may go on for years.
If you are tough like a buffalo and didn't chicken out even after receiving a few broken jaws and broken bones from the blows and kicks, over the years of free sparring you may discover some special ways of counter-attacking. For example, when your partner strikes you with a blow, instead of blocking or bouncing away, you may move to his side and strike his ribs before he has time to pull back his attacking hand. You may also discover that if you are skilful enough, you can apply this counter-attack even if his initial blow is a feign.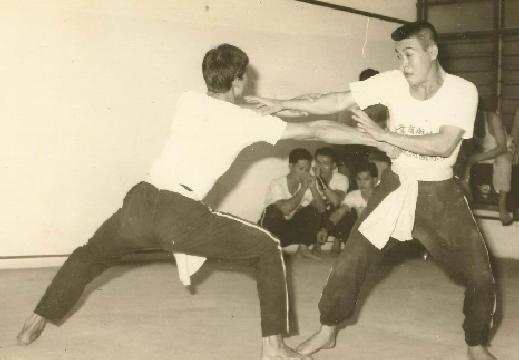 An invaluable photograph showing two combatants in an annual grand free sparring competition of Grandmaster Ho Fatt Nam about 40 years ago, following the tradition of the southern Shaolin Temple. Notice that they used typical Shaolin kungfu patterns, which were the same as what our Shaolin Wahnam kungfu students use today, and which were also the same as those used by Shaolin disciples in real fighting a few hundred years ago, as revealed in written records and illustrations.
In a year of free sparring, there may be many occasions when you can use this counter-attack. But these occasions occur so fast that you are usually unprepared for them. Hence, in practical terms you may actually use such a counter-attack a few times in a year of free sparring, and you may be successful only once or twice. Most of the time you would only say to yourself, "Oh, I could use that special counter-attack", but your hands and legs are too slow for your intent.
Why are you too slow? And why can't you use the kungfu techniques that you perform in solo forms? The reason is that your free sparring has been haphazard and unmethodical.After 10 years of free sparring you may not be more efficient than when you were in your first year!
Now, take another scenario. You stand at a typical kungfu stance using a typical kungfu pattern. Your training partner rushes at you to rain blows. But he couldn't. As soon as he makes his first move, irrespective of whether it is real or feign, you intercept it with a tiger-claw, using a tactic called "one closes two", in such a way that he cannot continue his other hand attack without making an adjustment. But before he can make the adjustment, you drive a palm strike with your other hand into his ribs to fracture them, had you wanted to, using a Shaolin pattern called "Dark Dragon Draws Water". But of course you stop just short of target with your trained control.
Will this scenario happen? It never will, if your "training" is haphazard. It surely will, if your training is methodological and systematic.
At first your partner does not rush at you. He moves in at a comfortable speed for you to execute your counter-attack. How did you discover this counter-attack? You didn't. It was evolved from centuries of actual fighting, and is taught to you by your master who has inherited this technique. You and your partner would have to practice just this sequence of attack and counter-attack 50 times a day. In three months, you and your partner would have practiced it a few thousand times, compared to only a few times in 10 years had you been doing haphazard free sparring.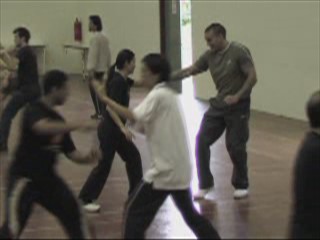 Students enjoying using Shaolin Kungfu for sparring at the Intensive Shaolin Kungfu Course in Sabah in March 2007
By practicing systematically a few thousand times, you partner will be able to attack you with more force and speed, and you will be able to counter-attack more efficiently than others who perform similar attacks and counter-attacks haphazardly a few times in 10 years. In other words, although you have trained for only three months, if someone rushes at you to rain blows at you, you will be able to handle this combat situation more efficiently than a kungfu student who has done haphazard free sparring for 10 years.
What would you do if your partner makes an adjustment successfully and executes a side kick at you as you attempt to counter-attack with a palm strike? Spontaneously you withdraw your front leg to avoid his kicking attack, and simultaneously strike his kicking leg with your arm, using a Shaolin pattern called "Lohan Strikes a Drum".
You can do this effectively because your master has the vision to foresee that as you counter-attack with a palm strike, your opponent may respond in a number of preferred moves. He also has the direction to train you systematically to respond to these moves. Had you been performing haphazard free sparring, you would have to respond on the spur of the moment, which is another way of saying your respond will be artless and impromptu.
Of course your opponent may attack you in other ways besides charging at you with blows. Your master has the vision to predict the numerous ways an opponent would attack, and provides the direction of your systematic training.
LINKS
Please e mail your questions to Sifu Wong Kiew Kit stating your name, country and this webpage for reference. Emails without these particulars may not be answered.