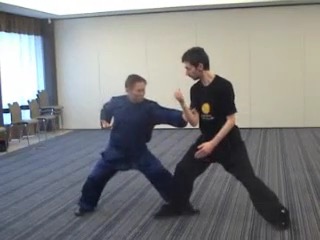 While gripping Sifu Mark's left elbow, Grandmaster Wong drove a fist into Sifu Mark's heart
---
---
Li Chooi Peng paid her cousin sister, Wang Wei Lin, a visit. One of the reasons was to meet the villain, Leong Fa Yun. But Leong Fa Yun was not at home when she visited, so she spent much of the time with her cousin sister to talk about old times.
However, when Li Chooi Peng was about to leave, Leong Fa Yun returned home. Indeed streets were narrow for those who had grudges (which meant that those who had grudges often met).
"Wei Lin," Leong Fa Yun asked, "who is this lady?"
"She is a relative of my mother, Miss Li Chooi Peng."
"Ah, the famous Miss Li Chooi Peng. I've heard about your fame in the lion dance on New Year day," Leong Fa Yun said.
Li Chooi Peng had a look at him. His face was wide, and his cheek bones high. He was smiling, but Li Chooi Peng could see vengeance in his eyes. He kept staring at Li Chooi Peng, without moving his eyes away.
"Miss Li," he said, "the seat is not warm yet, and you are in a hurry to leave."
"I've been here for a long time. If I don't leave now, my mother will be worried."
When Leong Fa Yun had returned to his room, he paced about with his hands behind his back.
"This Li Chooi Peng is not only pretty like a flower," he thought to himself, "she is also a martial artist. Her blood and energy must be abundant and vibrant. Now I just want to use the blood of a strong woman, to strengthen the body and cheer the heart of myself and my men."
So he went to ask Wang Wei Lin. She said, "Chooi Peng lost her father when she was small. She and her mother live together. But they are not poor like my family. They open a sundry shop, dependent on their own effort, and have warmth and are not hungry."
Leong Fa Yun was pleased. He thought to himself, "If I use a lot of money to tempt her mother, she will be in my hands. "
So the next morning, he went with some servants carrying expensive gifts to Li Chooi Peng's house. At that time, Li Chooi Peng was having breakfast with her mother, and they heard a knock on their door.
When Madame Lau opened the door, she had a shock.
"I've all the time admire your daughter, Miss Li Chooi Peng. Her wisdom is higher that that of an ordinary person, her character is high and admirable, so I was thinking of uniting with her for a hundred years. I have bought some humble gifts for you."
"You just married my niece, Wang Wei Lin," Madame Lau said.
"That's the reason why I am here," Leong Fa Yun explained. "I was thinking that a wife would not be happy when her husband married another woman. But Wei Lin and Miss Li are cousins, and she often speaks very highly of Miss Li. They spent time together when they were small, now they can spend time together in my house. I am sure Wei Lin will be happy."
Li Chooi Peng was furious. She came out from her room and confronted Leong Fa Yun. "If you want to marry me, you must ask my two sisters."
Leong Fa Yun was surprised. "Do you have two sisters?"
Li Chooi Peng rolled up her sleeves and showed her two fists. "Here are my two sisters."
Leong Fa Yun became angry. "Little bitch. You use your two fists to frighten me? If I don't show you some skills, you will not know how high is a mountain and how far is some water."
Li Chooi Peng moved forward to execute a punch at Leong Fa Yun. Leong Fa Yun quickly warded off the punch. The two persons then fought on the street.
Li Chooi Peng understood kungfu philosophy well. She changed her attack to defence, to watch the opponent's movements, but she was ready to strike back when an opportunity arose.
Leong Fa Yun did not know Li Chooi Peng's intention. He thought to himself, "She is a small girl. No matter how good her art is, her stamina does not last as long as that of a man. If I attack her vigorously, she will be defeated."
So he moved forward and struck Li Chooi Peng's head with his right palm. She quickly dodged to avoid the attack. Immediately he swept at Li Chooi Peng with his left hand, using the pattern "Whirlwind Sweeps Leaves". Li Chooi Peng moved back to avoid the sweeping hand. Then Leong Fa Yun kicked out his right leg at Li Chooi Peng's body. Li Chooi Peng gently threaded it away with her right palm.
The two persons exchanged many encounters, with Leong Fa Yun attacking and Li Chooi Peng avoiding. Leong Fa Yun thought that Li Chooi Peng was quite helpless, knowing just to avoid without counter-attacking. Leong Fa Yun moved in with a right thrust punch. This time Li Chooi Peng anticipated his attack. She moved gently to a side to avoid the punch, then using her two eagle-claws gripped his right striking arm at his elbow and wrist at a time when the arm was fully extended, using Combat Sequence 8 which was called "Pai Pou Hang" or "Side-Step Move". Leong Fa Yun gave a loud yell as he felt the sharp pain at his arm.
Still holding the opponent's right elbow with her left eagle-claw, Li Chooi Peng executed a right thrust punch at Leong Fa Yun's heart, using the pattern "Black Tiger Steals Heart". Leong Fa Yun fell back a few steps on the street, dead.
His servants who came with expensive gifts were stunned. They dropped the gifts and ran for life.
Wong Kiew Kit
13th January 2018, Sungai Petani
LINKS